Make a Velvet Embellished Dressy Winter Scarf
Dress up a classic outfit for Christmas and special winter occasions by making your own velvet scarf with embellishments.
During the holidays I tend to dress up more than any other time of the year and I don't like the stress or cost of buying a new dress every year for parties or Church services. I have a black wool dress that I absolutely love and no one would ever know it's the same dress year after year. That's because I change it up every year with elaborate jewelry, a pretty shawl or an elegant scarf. I'm going to show you how easy it is to make a scarf like this one!
You can modify this scarf anyway you like. You can use more casual fabrics if that's the look you prefer. Look for unique embellishments like ribbon, buttons or beads. For a more casual look maybe you'll want to use fun trims or pompoms!
I used two different fabrics for my scarf. They are both pliable which is necessary for the perfect drape. I liked using two complementary fabrics to give it a bit more character but it's not necessary to do so.
Let's Go!
Materials To Make a Velvet Embellished Dressy Winter Scarf:
Two lengths of pliable fabrics, each 57" long x 9" wide

Needle and thread

Measuring tape

Fabric or other marker to draw line for cutting

Fabric scissors

Sewing pins

Sewing machine

Iron

Embellishments for scarf (ribbons of all kinds, buttons, beads, trims of all sorts, pompoms, etc.)
Instructions to Make a Velvet Embellished Dressy Winter Scarf:
Step 1
Choose fabrics for front and back of scarf. Measure a 9" width x 57" length from front and back fabric.
Step 2
Mark a line 9" from edge across length of fabric. Cut along this line and do this for both front and back of scarf.
Step 3
Now it's time for embellishing the scarf (before it's sewn together). Carefully stitch down ribbons, buttons and beads with a needle and thread. (Oops…our images below show the scarf after it's sewn together, but do add the embellishments prior to sewing the scarf fabrics together.)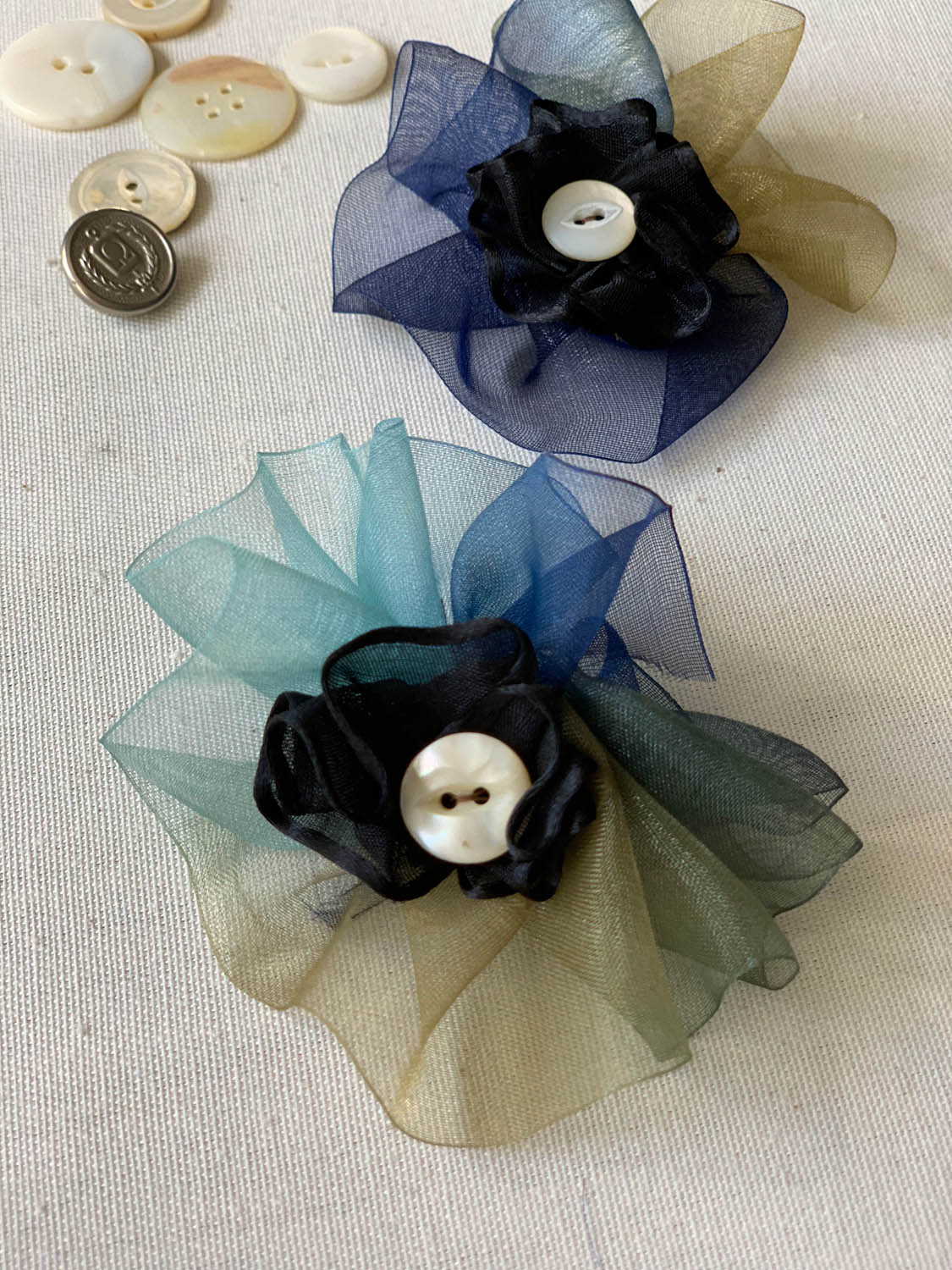 Step by Step Simple Ribbon Flowers for Embellishing
Turn beautiful lengths of ribbons plus pretty vintage, antique, or purchased buttons into beautiful embellishments for home decor or fashion accessories with this simple technique.
No-Sew Fringed Fabric Scarf…Fast!
One third yard of drape-able, reversible upholstery-weight fabric and about thirty minutes is all all you need to complete this fun fashionable wardrobe essential!
Step 4
With right sides together, pin along fabric edges, down the length of scarf.
Step 5
Sew a straight line down the length of scarf, using a 1/2" seam allowance. Continue to sew around scarf, leaving about 5" for turning scarf right side out.
Tips to try for sewing with velvet:
Pin generously to avoid the fabric shifting as you sew

Loosen the machine tension if necessary

Hold the fabric taut as you sew

Use a walking foot, Teflon foot, or roller foot

Sew with tissue paper or a tear-away stabilizer between the fabric and feed dogs
Step 6
Very carefully, turn scarf right side out. Take care not to pull off any of your embellishments. From the non-velvet side, carefully press along stitched seams seams to help "sink" the stitches. At the opening, turn under and iron down 1/2" where you turned your scarf; the opening will be stitched closed when we attach our side trims.
Tip: Pressing velvet is delicate work. It is easy to mar the pile with an iron, so use only steam, and don't allow the iron to touch the velvet.
Step 7
To finish edges of the scarf, sew down any trim or tassels that appeal to you. I used a leftover upholstery trim on one of my edges and carefully used my sewing machine to attach. On the other end of my scarf I twisted a length of trim around a button to form a tassel. These are all just ideas so get creative with what supplies you have!
This project looks a lot more complicated than it really is. Use your imagination and maybe some supplies you already have in your craft room to create something that's unique for you! I'd love to see what you make so please be sure to email me photos of your finished scarves. Happy Holidays!
(12)